A more youthful, inviting smile with lip lift surgery in Scottsdale
As we age, the lips, like the rest of the anatomical structures, begin to change shape, compromising our aesthetics. The upper lip in particular begins to sink due to elongation in the philtrum (that grooved trough that extends from the base of the nose to the mouth), causing an aged appearance. A lip lift can help restore a more feminine and alluring look, revitalizing your smile as well as your confidence.
What is a lip lift?
A lip lift is a surgical procedure that helps shorten the length of the upper lip, allowing the lip vermilion (pink portion of the lip) and the teeth to be more visible. This typically creates a more youthful smile and accentuates the natural beauty of the lower face. A lip lift can also create a feminine pout/Cupid's bow in the center of the mouth, which adds to the perception of lip fullness.
What are the benefits of a lip lift?
A more feminine, youthful appearance to the lips and mouth
Well hidden incisions
Addition of an attractive Cupid's bow in the center of the lips
Fuller, plumper lip contours
Increased visibility of the lip vermilion and teeth
Improved satisfaction with one's image
A pioneer in
Lip Lift Surgery
Although lip lift surgery is a minor procedure that is typically performed under local anesthesia, there are few procedures that are as technically demanding. Mastery of facial anatomy and precise surgical skill are required to achieve repeatedly excellent results. Everything from pre-operative measurements to careful stitching along the incision lines are critical for natural results without noticeable scarring. Dr. Starkman is a board-certified head & neck surgeon with subspecialized Fellowship training in Facial Plastic Surgery. He has refined traditional lip lift techniques to ensure that the results reflect the symmetry and natural appearance that his patients desire.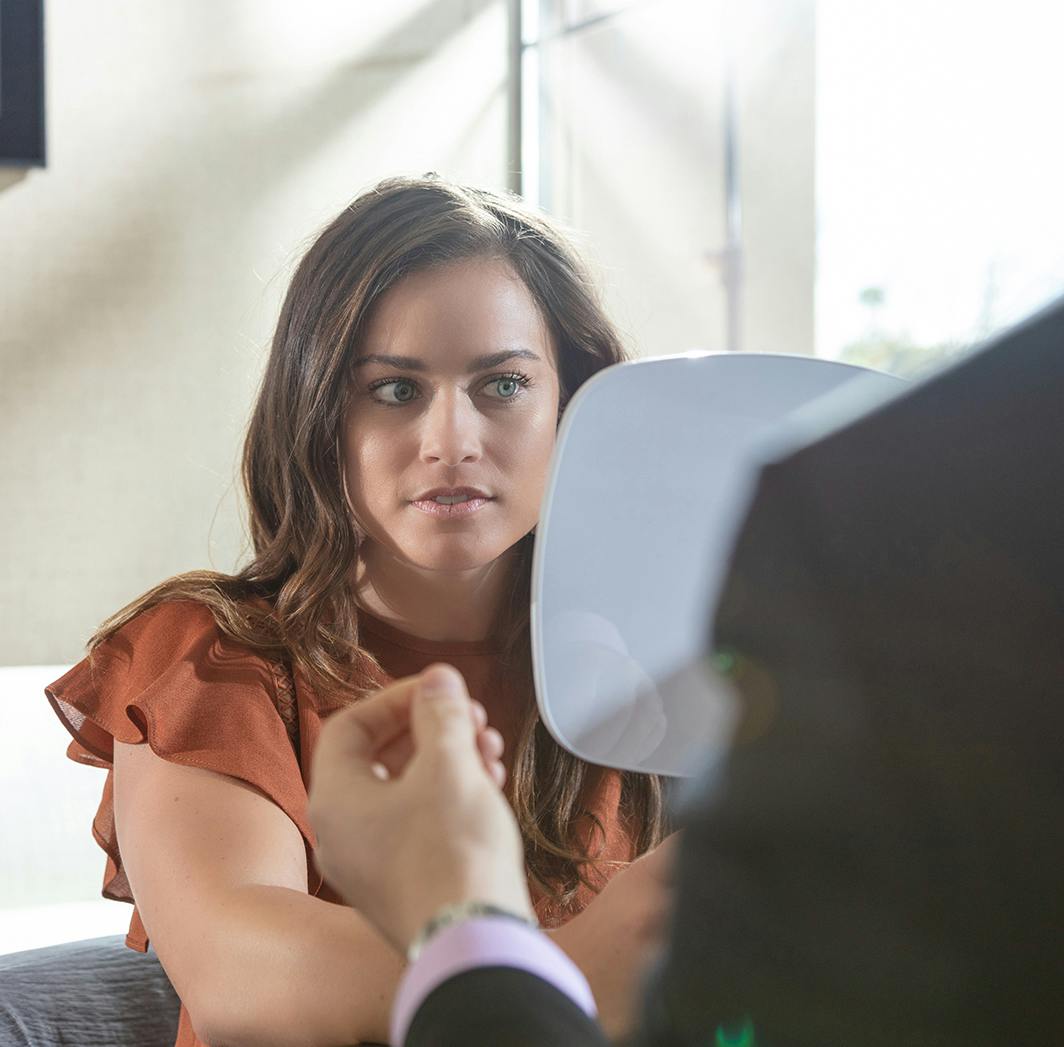 Ideal candidates
for a lip lift
Lip lift candidates are not primarily interested in having fuller lips.
Typically, they are concerned about:
Lips that are symmetrical
Lips that are thin and unshapely
Lips that are spaced too close or too far from the nose
Lips that do not cover your upper row of teeth
Lips that are always in the "frown" position
During your consultation with Dr. Starkman, it is important that you discuss your specific wants and needs concerning your lips so he can determine the appropriate procedure. Some patients mistakenly think they need a total lip lift surgery when in reality, they need the gummy smile procedure.
Surgical technique
during a lip lift
All lips are unique, and there is more than one approach to performing a lip lift surgery. However, the two most commonly requested techniques are:
Gull-wing lip lift
This technique focuses on the Vermilion border, also known as the Cupid's bow. The Vermilion border forms the top of the Cupid's bow (center of the top lip). During this procedure, the skin tissue is meticulously detached, and the lips are lifted to boost the appeal and definition of the lip line.
Sub-nasal lip lift
When the philtrum (space between the nose and top lip) is too long, it can upset the balance and symmetry of the face. A sub-nasal lip lift involves a tiny portion of skin from beneath the nose being removed and the skin then being sutured into a higher position. This new elevated position makes the lips appear fuller and larger while also emphasizing the Cupid's bow (Vermilion border).
What to expect
following a lip lift
A lip lift can be complicated but typically offers beautiful results. Depending on the technique used, the lip lift may only take several minutes to complete or could take up to two hours. In the first two weeks after your surgery, you will likely experience some pain, swelling, and bruising as your lips and face heal and adjust.
You will see your significant, beautiful outcome once your bruising and swelling has abated. Aftercare for scarring is a crucial element of your healing, and we will provide you with detailed instructions for this and general home care for your recovery.
FAQ
How much does a lift lip cost?
The cost of your lip lift will vary, depending upon the complexity of your specific surgery, as well as whether you are having any other facial procedures. But it usually ranges between $6,000 - $9,000. During your consultation, Dr. Starkman will evaluate the appropriateness of a lip lift for you based on all of your facial features. He will then create your personalized surgery plan and be able to discuss cost estimates and payment options.
Why shouldn't I just use a dermal filler?
Injectable dermal fillers can create more fullness where it is needed in your lips. However, they are not permanent and won't address the same issues as a lip lift. A filler will only plump the lip outwardly, not lift it into a new position on your face. Plus, dermal fillers require maintenance injections to retain the results. Dr. Starkman will discuss all your options during a detailed consultation at his office in Scottsdale, AZ.
Will I have "duck lips"?
Dr. Starkman is an experienced plastic surgeon who specializes in facial procedures. He performs lip lifts to create subtle, natural results so there is no need to fear having "duck lips." Most of the individuals you see who have pouty, huge duck lips were likely given lip implants when they actually should have been advised to have a lip lift instead.
Will I have a scar?
Lip lifts do require an incision so you will have a very small scar. Dr. Starkman places a very inconspicuous incision at the bottom of the nose (in a crease). Your sutures will be inside the inner lip where they will not be noticed or seen by anyone who does not know you've had a procedure. With proper scar aftercare, your lip lift incision mark can ultimately be nearly invisible.
Why have a lip lift if it won't plump my lips?
Lip lifts are all about the placement of the lips on the face. A lip lift is not intended to plump your upper lip. It will redefine the shape and position of the lip to address sagging or an undesirable Vermilion border shape. Many patients see Dr. Starkman to create a more distinct Cupid's bow or shorten the space between the top lip and the base of the nose (for the best aesthetic results, the space should be 12 – 15 mm in height). If you want fuller lips, you can ask Dr. Starkman about dermal fillers.